Press Releases
for
My Therapist is Making Me NUTS!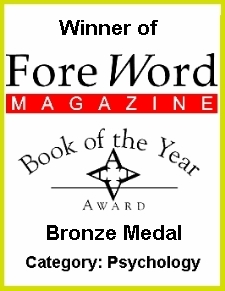 FOR IMMEDIATE RELEASE
FOREWORD MAGAZINE ANNOUNCES
BOOK OF THE YEAR WINNERS AT BOOK EXPO AMERICA PROGRAM
CHICAGO, IL, JUNE 3, 2004 - Winners in forty-seven categories were announced today during a program held at McCormick Place during Book Expo America. ForeWord's Book of the Year Awards, one of the most prestigious affirmations of work coming from the independent press community, awarded Mark Hillman of Clifton park, the Bronze Medal for his recently published book My Therapist Is Making Me Nuts! in the category of Psychology.
ForeWord's decisions take into consideration editorial excellence, professional production, narrative originality, author credentials and the value the title adds to the category.
ForeWord is the only review trade journal devoted exclusively to covering books from independent houses - ranging in size from university presses publishing hundreds of titles per year to micro, POD and aback publishers who may publish one title in a lifetime. Hillman's book can be purchased at The Book House of Stuyvesant Plaza and at all Borders locations.
---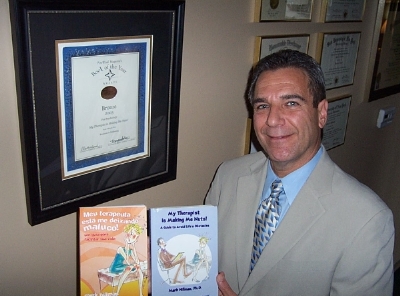 FOR IMMEDIATE RELEASE
Local Author Sells International Publishing Rights
Clifton Park, N.Y. (July 13, 2005) - Dr. Mark Hillman, author of My Therapist is Making Me Nuts, a book that offers an interactive and engaging approach to achieving self-awareness and self-growth, recently sold publishing rights. Up to 10,000 copies of the book will be printed in each of those countries for distribution there.
In his book, Dr. Hillman presents readers with often funny and enlightening techniques for understanding themselves in relationships. He leads readers through a step-by-step self-examination that enables them to discover the stumbling blocks in life that prevent us all from knowing our true selves. Dr. Hillman also recently participated in BookExpo America, the largest book expo in the United States, at the Jacob K. Javits Center in New York City, where he conducted a book signing. His book won a Bronze Medal for Book-of-the-Year in the category of Psychology, it can be purchased locally at Borders.
My Therapist is Making Me Nuts! is distributed in the U.S. by MidPoint Trade Books of New York City.
---
Click Here to Purchase the book