If you are interested in purchasing any of these books click on the book covers and you will be taken to a link where purchase info is supplied.
---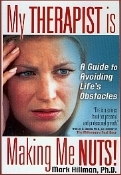 My Therapist Is Making Me Nuts!
by Mark Hillman, PhD.
"My goal is to help people help themselves by discovering their core values. Once you understand how your background has influenced you to make certain decisions in the past, then the humorous examples interwoven within the book will show you how not to trip over the same landmines. Written with humor so "we" can relate, this interactive book is a road map (with directions) of how to get out of your own way.
---

The Millionaire Next Door :
The Surprising Secrets of America's Wealthy
by Thomas J. Stanley and William D. Danko
"Why aren't I as wealthy as I should be?" Many people ask this question of themselves all the time. Often they are hard-working, well-educated, middle-to high- income people. Why, then, are so few affluent? The answer lies in The Millionaire Next Door: Surprising Secrets of America's Wealthy. This is the never-before-unearthed story about America's rich--and how they got that way. According to authors Thomas J. Stanley and William D. Danko, most people have it all wrong about how you become wealthy in America. It is seldom inheritance or advanced degrees or even intelligence that build fortunes in this country. Wealth in America is more often the result of hard work, diligent savings and living below your means. The Millionaire Next Door will tell you the seven common denominators that show up again and again among those who have accumulated wealth. You will learn, for instance, that many millionaires bargain shop for used cars, pay a tiny fraction of their wealth in income tax, raise children who are often unaware of their family's wealth until they are adults, and, above all, reject the big-spending lifestyles most of us associate with rich people. In fact, you will learn that the flashy millionaires glamorized by the media actually represent only a tiny minority of America's rich. Most of the truly wealthy in this country don't live in Beverly Hills or on Park Avenue--They live next door. Stanley and Danko have been studying the wealthy in this country for 20 years. Using their two decades' worth of surveys, interviews, and data available nowhere else, they have compiled a detailed picture of who the rich are and how they live that will change forever your perception of what being wealthy really means.
---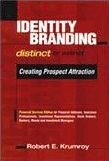 Identity Branding
by Robert Krumroy
Identity Branding Marketing requires innovation, not imitation. It requires creativity, not duplication. This book is loaded with practical ideas that can help you dominate your local market; ideas that can make YOU the brand of choice in your market; ideas that can make you the professional that the competitors are chasing. You will find reading it to be exciting and pragmatic as it inspires you to think creatively, past the typical boundaries of your "Me-Too" competitors. Once you pick it up, you won't put it down.
Ultimately, this book is about YOU. It's about creating an Identity Brand that attracts customers, increases market access, improves your profits and builds prospect and client loyalty. It is about building a prospect highway to a prospect community and then branding your distinct, unique, intriguing and differentiated identity into their minds, which creates a competitive advantage and welcomes your contact.
Sometimes is not available at Amazon.com - book can also be purchased from author by calling 1-800-851-8169
---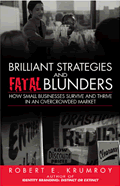 Brilliant Strategies and Fatal Blunders
by Robert Krumroy
If you're a business owner or a professional, it's no longer enough to be good - even excellent - at what you do. High-level success is no longer attained by working hard, providing a quality product or being personally determined to "gut it out" until people recognize your expertise and give you their business. Success requires critical thinking; building visible market differentiation; and then outclassing the competition. This book identifies the brilliant strategies used by professionals, service companies and retail establishments to do just that.beat the competition and thrive. But caution, the fatal blunders are practically invisible and almost always terminal. If you want to survive and thrive, read this book.
---

The Road Less Traveled
by M. Scott Peck
"Life is difficult."
With this first sentence, Dr. M. Scott Peck revolutionized the way we live our lives, and it is no less true today than when it was written twenty years ago. In this guide to confronting and resolving our problems, and suffering through the changes, we learn that we can reach a higher level of self knowledge. Written in a voice that is timeless in its message of love and understanding, The Road Less Traveled can help us learn the very nature of loving relationships: how to recognize true compatibility; how to distinguish dependency from love; how to become one's own person; how to be a more sensitive parent. The Road Less Traveled, a national bestseller for twenty years, will show you how to embrace reality and achieve serenity and fullness in your life. In this brilliant, groundbreaking book, traditional psychological thought and spirituality are challenged and a new understanding is brought into everyday life.
---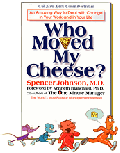 Who Moved My Cheese? : An Amazing Way to Deal With Change in Your Work and in Your Life
by Spencer Johnson
Change can be a blessing or a curse, depending on your perspective. The message of Who Moved My Cheese? is that all can come to see it as a blessing, if they understand the nature of cheese and the role it plays in their lives. Who Moved My Cheese? is a parable that takes place in a maze. Four beings live in that maze: Sniff and Scurry are mice--nonanalytical and nonjudgmental, they just want cheese and are willing to do whatever it takes to get it. Hem and Haw are "littlepeople," mouse-size humans who have an entirely different relationship with cheese. It's not just sustenance to them; it's their self-image. Their lives and belief systems are built around the cheese they've found. Most of us reading the story will see the cheese as something related to our livelihoods--our jobs, our career paths, the industries we work in--although it can stand for anything, from health to relationships. The point of the story is that we have to be alert to changes in the cheese, and be prepared to go running off in search of new sources of cheese when the cheese we have runs out. Dr. Johnson presents this parable to business, church groups, schools, military organizations--anyplace where you find people who may fear or resist change. Things change. They always have changed and always will change. And while there's no single way to deal with change, the consequence of pretending change won't happen is always the same: The cheese runs out.
---

Tuesdays with Morrie:
An Old Man, a Young Man and Life's Greatest Lesson
by Mitch Albom
This true story about the love between a spiritual mentor and his pupil has soared to the bestseller list for many reasons. For starters: it reminds us of the affection and gratitude that many of us still feel for the significant mentors of our past. It also plays out a fantasy many of us have entertained: what would it be like to look those  people up again, tell them how much they meant to us, maybe even resume the mentorship? Plus, we meet Morrie Schwartz--a one of a kind professor, whom the author describes as looking like a cross between a biblical prophet and Christmas elf. And finally we are privy to intimate moments of Morrie's final days as he lies dying from a terminal illness. Even on his deathbed, this twinkling-eyed mensch manages to teach us all about living robustly and fully. Kudos to author and acclaimed sports columnist Mitch Albom for telling this universally touching story with such grace and humility.
---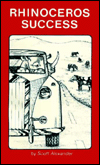 Rhinoceros Success
by Scott Alexander
This is simply a "must read" for anyone who wants to find their full potential. It has been used as a  management motivator and training resource for several years. Anyone who wants to step up will understand. It is as easy to read as a children's book, but leaves you ready to face the hardest challenges life has to offer. If you have always dreamed of creating your own business, Scott provides a meaningful and effective "lifestyle" to help achieve goals that were once only faint dreams. Make your dreams a reality...become a rhino! This book teaches you to be a rhino and CHARGE your goals down. Don't be a cow, in a field..... happy to just...... live.  ATTACK your goals and avoid the torpedoes!
Also available by phoning 1-800-8-SAFARI
The Rhino's Press
P.O.Box 3520
Laguna Hills, CA 92654
---

The Precious Present
by Spencer Johnson
The precious present has nothing to do with wishing. The richness of the precious present comes from its own source. The precious present is not something that someone gives you.It is something that you give to yourself. The parable of The Precious Present is a quiet one to muse upon and sit with, and finally to take into your heart. Spencer Johnson has created a simple path for the reader to follow in the search for peace and clarity. While The Precious Present may read like a children's book for adults, its slow pace requires the mind to quiet down so that it can really register the meaning of Johnson's words. "The Present Is Simply Who I Am Just The Way I Am... Right Now. And It Is Precious." We may be familiar with this philosophy in theory, but the experience of reading The Precious Present is truly synchronous with its message.
---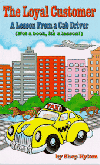 The Loyal Customer: A Lesson From a Cab Driver
by Shep Hyken
This fun-to-read and easy-to-understand story is simple and very focused. There is only one point -- to create a loyal customer. The story of Frank, a cab driver from Dallas, Texas, illustrates the importance of not having satisfied customers, but loyal customers. In addition to the story and interview, there are a number of "Self Study Questions" that will make it easy for the reader to transfer the concepts to their own business situations. This is not a book. It's a lesson!
Sometimes not available at Amazon.com - can be ordered directly from author's website at http://www.hyken.com/
---

To explore specifics on how I build an executive coaching relationship and what is involved in the actual coaching process, along with suggested time frames and fee schedules click the link below